Introduction
Hey folks! Are you a clothing brand, small business owner or individual and looking for the best wholesale fabric markets in Mumbai? You have come to the right place! In this comprehensive guide, we'll discuss some of the most famous wholesale fabric markets in Mumbai city, the types of fabrics available, tips for buyers, fabric prices per meter, customization and printing services, shipping and logistics, and online wholesale fabric markets. So, let's dive right in!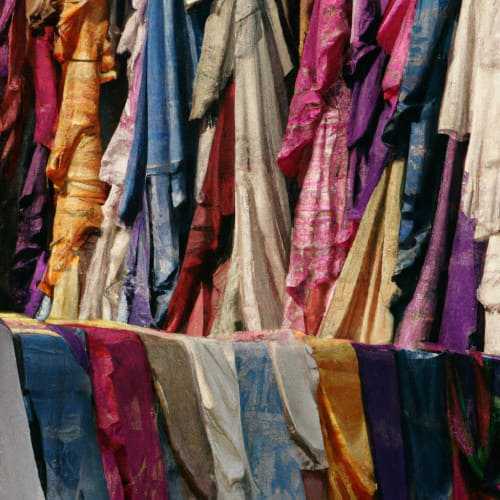 Famous Wholesale Fabric Markets in Mumbai
Mangaldas Market
Located in the heart of Mumbai, Mangaldas Market is a haven for textile enthusiasts. It's one of the oldest and largest wholesale fabric markets in the city, offering a diverse range of fabrics, from traditional Indian textiles to contemporary and imported designs. With many countless shops to choose from, you're sure to find the perfect fabric to suit your needs.
Mulji Jetha Market
Mulji Jetha Market is another popular destination for fabric lovers. With a history dating back over a century, this market is home to countless textile shops offering a wide variety of fabrics, including silk, cotton, linen, and synthetic materials. Whether you're looking for ethnic prints or modern designs, Mulji Jetha Market has it all.
Hindmata Market
Famously known as "Dadar's Fabric Paradise," Hindmata Market offers an extensive range of fabrics at wholesale prices. From stunning Indian silks to affordable synthetic materials, you'll find it all at this bustling market. Besides fabrics, Hindmata Market also houses stores selling readymade garments and accessories, making it a one-stop shop for fashion enthusiasts.
Gandhi Market
Situated in the heart of South Mumbai, Gandhi Market is another popular destination for fabric shopping. With hundreds of shops selling a variety of fabrics, it's easy to find the perfect material for your next project. From vibrant sarees to intricate lace, Gandhi Market has something for everyone.
Bhuleshwar Market
Known for its vibrant atmosphere and chaotic charm, Bhuleshwar Market is a must-visit destination for anyone looking to buy fabrics in bulk. With its narrow lanes filled with textile shops, you'll find everything from traditional Indian fabrics to imported materials. Bhuleshwar Market is also famous for its stunning jewellery and accessory shops, making it an excellent place for a complete shopping experience.
Types and Varieties of Fabrics available in the Wholesale Fabric Market in Mumbai
Cotton Fabrics
Cotton is a popular choice among fabric buyers due to its breathability, softness, and durability. Mumbai's wholesale fabric markets offer a wide range of cotton fabrics, including pure cotton, cambric, muslin, and khadi. You'll find an assortment of prints and patterns, from traditional Indian designs to contemporary styles.
Silk Fabrics
Silk is synonymous with luxury and elegance, and Mumbai's fabric markets have no shortage of exquisite silk textiles. From the rich and vibrant Banarasi silk to the delicate and lightweight Chiffon, you'll find an array of silk fabrics to suit every occasion and taste.
Synthetic Fabrics
If you're looking for affordable and versatile fabrics, synthetic materials like polyester, rayon, and nylon are great choices. These fabrics are widely available in Mumbai's wholesale markets and come in various prints, colours, and textures. They're perfect for creating stylish and budget-friendly garments.
Linen Fabrics
Linen fabrics are known for their breathability, moisture-wicking properties, and natural feel. They're ideal for creating comfortable and stylish clothing, especially for the warm Indian climate. Mumbai's wholesale fabric markets offer a variety of linen materials in different weights, weaves, and colours.
Blended Fabrics
Blended fabrics combine the properties of two or more materials, creating a unique and versatile textile. Some popular blended fabrics available in Mumbai's markets include cotton-polyester blends, cotton-silk blends, and viscose blends. These materials offer the best of both worlds, providing comfort, durability, and affordability.
How to start a fabric business <<< Read more
Kids Clothing Business Startup <<< Read more
Wholesale Fabric Market in Dubai <<< Read more
Largest wholesale Fabric Market in China <<< Read more
How to Buy Fabric from Wholesale Fabric Market in Mumbai
Buying fabric from the wholesale fabric market in Mumbai can be a daunting task, especially for first-time buyers. Here are some tips to help you buy fabric from the wholesale fabric market in Mumbai:
Know Your Requirements
Before you set foot in a wholesale fabric market, it's crucial to know your requirements. Make a list of the types of fabrics you need, their preferred colors, patterns, and quantities. This will help you navigate the market more efficiently and avoid impulse purchases.
Prepare a Budget
It's easy to get carried away while shopping for fabrics, so it's essential to set a budget before you start. This will help you stay focused and ensure that you don't overspend on unnecessary items.
Negotiation Skills
Haggling is a common practice in Mumbai's wholesale markets, so don't be afraid to negotiate prices with the vendors. Remember to be polite and assertive, and don't hesitate to walk away if you feel the price is too high.
Quality Check
Before making a purchase, inspect the fabric for any defects or damages. Check the material's texture, colour, and finish, and ensure it meets your quality standards.
Wholesale Fabric Market Prices in Mumbai
The prices of fabrics in the wholesale fabric market in Mumbai vary depending on the type of fabric, the quality, and the quantity. Here are some average prices of fabrics in the wholesale fabric market in Mumbai:
Cotton: Rs. 50-150 per meter
Silk: Rs. 200-1500 per meter
Polyester: Rs. 30-100 per meter
Rayon: Rs. 50-150 per meter
Chiffon: Rs. 100-500 per meter
Georgette: Rs. 100-500 per meter
Customization and Printing Services
Many wholesale fabric markets in Mumbai offer customization and printing services, allowing you to personalize your fabrics with unique designs, logos, or patterns. This can be a great way to add a personal touch to your clothing line or create custom garments for your customers.
Shipping and Logistics
If you're purchasing fabrics in bulk, it's essential to consider shipping and logistics. Many wholesale markets in Mumbai offer shipping services, or you can work with a third-party logistics provider to transport your fabrics to your desired location.
Online Wholesale Fabric Markets
In today's digital age, you don't necessarily have to visit Mumbai's bustling markets to buy wholesale fabrics. Several online platforms offer a wide range of fabrics at competitive prices, allowing you to source materials from the comfort of your home or office. Just ensure to check the fabric's quality and return policy before placing an order.
Conclusion
Mumbai's wholesale fabric markets are a treasure trove for fashion enthusiasts, designers, and business owners alike. With a vast range of fabrics available at competitive prices, you're sure to find the perfect materials for your needs. Just remember to keep our tips in mind to ensure a smooth and successful shopping experience. Happy fabric hunting!
FAQs
Q1: What is the best time to visit Mumbai's wholesale fabric markets?
A1: The ideal time to visit Mumbai's wholesale fabric markets is during weekdays, preferably in the mornings when the markets are less crowded, and vendors are more likely to offer better deals.
Q2: Can I buy fabrics in small quantities at wholesale markets?
A2: While wholesale markets primarily cater to bulk buyers, many vendors are open to selling smaller quantities. However, be prepared to pay slightly higher prices for smaller orders.
Q3: Are there any hidden charges when purchasing fabrics from wholesale markets?
A3: Make sure to clarify all costs, including taxes and shipping fees, with the vendor before finalizing your purchase to avoid any surprises.
Q4: How can I ensure the quality of fabrics purchased online?
A4: When purchasing fabrics online, read customer reviews and check the return policy to ensure you can return or exchange the product if it doesn't meet your expectations.
Q5: Can I find eco-friendly fabrics in Mumbai's wholesale markets?
A5: Yes, several vendors in Mumbai's wholesale fabric markets offer eco-friendly fabrics such as organic cotton, bamboo, and recycled materials. Be prepared to search a bit, and don't hesitate to ask vendors for recommendations