Get Experience: Largest Wholesale Fabric Market in China 
Hey folks! If you are looking to purchase bulk fabric wholesale then you do not need to worry we will guide you about the largest wholesale fabric in China. Fabrics are an essential material to manufacture clothes and various other materials. If you are an importer or a wholesale buyer of fabric then buying fabric from the world's top textile manufacturer that is China can be a good option.
The Guangzhou Zhongda Fabric Market also known as the Zhongda Textile Market is known to be China's largest wholesale fabric market. In this comprehensive post, we will discuss all points related to this particular wholesale fabric market in China like size and scale, location and history, products offered, buyers and sellers and the business environment. So, let's get into it!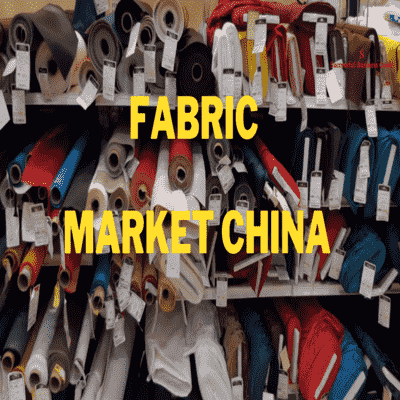 Kids Clothing Business Startup << Read More
Wholesale Fabric Market in Dubai <<< Read more
Wholesale Fabric Market in Mumbai <<< Read more
Let's show you the largest wholesale fabric market in China Size, Scale, And Technology Used
Guangzhou Zhongda Fabric Market: It is the largest wholesale fabric market in China, covering an area of over 50,000 square meters with over 5,000 shops and showrooms. This market is divided into 9 floors where the first 3 floors are trading centers consisting of 2000+ shops.
The fourth floor is an exhibition center where different fabrics are listed. The sixth floor is dedicated to business and trade whereas the seventh floor is an integrated service area. The market has embraced the latest technologies to enhance its operations and better serve its customers.
One of the notable features of the market is its use of mobile technology to facilitate transactions. In addition, the market has established a comprehensive logistics system to ensure the smooth and timely delivery of products.
Luohu Commercial City: – Shenzhen, this textile market has over 3,800 booths spread across 7 floors. It offers a variety of clothing as well as accessory products like buttons, zippers, laces, etc.
Nanchang Textile Market: – With over 3,000 traders, this market located in Nanchang, Jiangxi province sells a variety of fabrics such as chiffon, lace, velvet, denim, cotton, etc.
Shangjiajiu Pedestrian Street: – Located in Shanghai, this popular street has many fabric shops and wholesalers that sell silk, brocade, wool, linen, and other fabrics.
Minhou Fabric Market: – Located in Fuzhou, Fujian province, this huge market complex has about 3,000 shops selling all types of fabrics and accessories.
The best way to get goods from these textile markets is to connect with traders and wholesalers online before the trip. Having an importer export license also helps in getting good deals. Visiting during non-peak season offers more room for bargains.
Location And History Wholesale Fabric in China
The Guangzhou Zhongda Fabric Market is situated in the Haizhu District of Guangzhou City, Guangdong Province, in southern China. Both local and foreign buyers readily visit the market because it is located close to important transportation hubs including Guangzhou South Train Station and Guangzhou Baiyun International Airport.
In the 1980s, this market was developed as a modest wholesale marketplace for textile goods. The market has grown and matured over time to become the biggest wholesale fabric market in China, drawing clients from all over the world.
Early on, the market operated like a conventional offline market where buyers and sellers would personally meet to negotiate deals. Yet, as a result of the internet and mobile technology, online platforms have emerged in the industry.
Products Offered in the Largest Wholesale Fabric in China
The Guangzhou Zhongda Fabric Market provides a broad selection of textile items to meet the needs of customers from various sectors and areas. The market sells a variety of items, including cotton, silk, wool, linen, and synthetic fibers.
These fabrics can be plain or patterned, colored or printed, embroidered or beaded, and so on. The market includes a variety of associated products in addition to fabrics, including upholstery fabrics, home textiles, and garment accessories.
Everything from curtains and bedding sets to buttons and zippers is available for purchase. The market is renowned for its premium goods and inexpensive prices. As there are so many vendors selling comparable goods, there is intense rivalry, which encourages merchants to provide the finest goods and services.
Buyers and Sellers
Buyers and merchants from all around the world visit the Guangzhou Zhongda Fabric Market. These buyers come from various types of industries. Consumers here want high-quality textiles, creative goods, and reasonable costs.
Sellers in the market, on the other hand, are vendors and producers who provide a diverse range of textile items. They are continually searching for methods to enhance their products and services in order to match customer requests.
Types of Fabric Available in China
The market features suppliers who specialize in various sorts of textiles and goods to meet the diversified demands of buyers. Some dealers, for example, specialize in silk textiles, while others specialize in wool or cotton. Buyers may quickly locate vendors who suit their requirements and preferences.
Buy Online Fabrics Wholesale through well know sites
1. Aliexpress
2.  Alibaba com
3.  DHgate com
4.  Globalsources com
You may place a bulk order and negotiate as well also ask for CNF prices otherwise supplier may offer you ex-work prices. It means you will have to arrange the shipment at your cost without insurance.
Further, you may select the following conditions and decide the mode of shipment.
CIF, FOB, CNF.
Business Environment
In this market, there is fierce competition for business. To draw customers, suppliers and producers work hard to provide the greatest goods and services. The market is well-known for its top-notch goods, cutting-edge technologies, and affordable rates, making it a very alluring location for customers from all over the world.
The market offers a wide variety of textile items as well as a number of services, including logistics and shipping, quality assurance, and customization. These services support buyers and sellers in conducting business effectively and smoothly.
Other events and exhibitions are also held at the market, giving sellers a chance to display their goods and network with possible customers. These gatherings encourage cooperation and innovation in the textile sector.
Future Prospects
With continuous expansion predicted in the textile industry, this market has a bright future when considering growth and scalability. The market is positioned to become an even more significant destination for buyers and sellers alike as the demand for premium and
cutting-edge materials rise.
In addition, the market is embracing new digital platforms and technologies, which will help it maintain its relevance and competitiveness in the constantly changing global market. Also, this market is well-positioned to adapt to future buyers' and sellers' evolving needs.
Conclusion
The Guangzhou Zhongda Fabric Market is a must place to visit if you are a wholesaler and looking for fabrics based on new fashion and customer needs. With large and diverse varieties, this market has gained a lot of popularity in the market. So giving it a try can be helpful for you to grow your business hand in hand.
FAQs
1.  Is it necessary to speak Chinese to do business in the market?
No, it is not important to know Chinese to business in the market. You can even proceed with only knowing to speak fluent English.
2.  Does the price vary when buying fabric in different countries?
Yes, the price always varies when you buy fabric from different countries. This is mainly due to employment costs, industry costs, and changes in currency.
3.  Does this market also sell fabric for retailers?
Even retailers and individuals can buy fabrics from this market as it is not only limited to wholesalers and corporates.
4.  Can buyers request custom fabrics or designs from sellers in the market?
Buyers can request the seller to manufacture customized fabrics and designs. Here, you will find a number of vendors who are ready to do this work for you.
5.  Can buyers place orders and make payments online, or is it necessary to physically visit the market?
This market also accepts receiving online orders and payments from customers. But it is recommended to once visit physically to understand the market.