Seat Cover Manufacturing Business | Seat Cover Sewing Business | Parking Shades Manufacturing Business |
Seat Cover Making Business |
Tent House Manufacturing Business | Floor Carpets Manufacturing Business |
Seat Cover Making Business – Business Analysis with Ongoing Market Trends:
The seat cover-making business is an evergreen business model and is perfectly suitable for people under any income range. This is because the business requirements are never that much costlier and extremely affordable. Meanwhile, the seat cover-making business lets you flourish in the market and grab the customers driving two-wheelers as well as four-wheeler vehicles. 
Discussing the investment prospects, an initial business entrepreneur involved under the domain can invest around 4 to 6k USD for the business setup process. The details of the required types of machinery include the skiving and cutting machine along with the needle bar of different kinds and the auto hole punching machine.
This market trend for this business will never get down even in the upcoming decades. To keep the vehicle's seat safe and secured, people all over the country prefer having stitched seat covers for long-term durability. Accordingly, one can get deeper into the business prospects and choose to become a professional entrepreneur in the domain. 
Last, but not least, the blog assures individuals to create long-term income opportunities on a regular basis. One can even execute the YouTube channel associated with the business and run a dedicated blog on the same. Finally, the business can let you earn from the diverse available sources including direct client approaches, tutorial sessions via YouTube and offline learning, blog monetization, and others.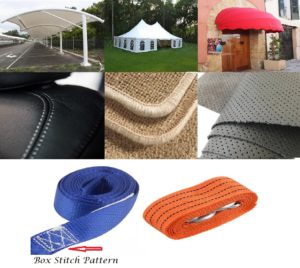 Parking Shade, Canopy Tents and Floor Carpets:
The seat-making industry even focuses on manufacturing shades, tents, and carpets. All these products are inclined in association with the same seat cover-making business for initiating the small or the big venture. As the business requirements and manpower skills are the same, one must understand these associated business domains as well and start under all these domains for a handsome business return.
There are different uses for all these products, but the machinery requirements are almost the same. The shades and tents can help in the business establishment as per the available locations. Full-time business entrepreneurs require the shades to protect the vehicles taken under their control. Similarly, the tents can even cater for the requirements, but the physical constructional layer seems different than the shades.
The manpower and skilled professional in the seat cover-making business can comfortably switch towards shades and carpet making. Simultaneously, the carpets even work out for getting fitted inside the four-wheeler, or the three-wheeler vehicles. It helps the individuals in getting comfort while sitting and keeps up their footwear as per the necessity.
The constructional materials may be different as per the customer's demand and may come forward as leather, nylon, or other hard plastic materials. It is advisable to dive your hands deeper inside the shades, carpets, and tents-making business also in association with seat cover making. Get in consult with the wholesale supplier of the raw materials, purchase the machinery, and start under all the domains for making a handsome business return for the long term.
It is mandatory to have a sufficient understanding of the business for flawless execution. Furthermore, even the initial business knowledge can let you earn a decent sum of the amount via the same. Let us understand the essential requirements for setting up the spontaneously executed business.
The seat cover-making business scatters among the different dimensions including two-wheeler set making, four-wheeler seat making, four-wheeler seat making, and others. The best criteria to decide the business niche is to select your level of expertise and accordingly choose the right vehicles. In case you own sufficient types of machinery and manpower for different available vehicles, you can go for the same. However, people prefer visiting the experts and accordingly pay them a decent sum of amount. 
Business Budget Deciding: 
It is better to make up your mind in terms of the best business budget. This budget will let you move accordingly and finally dive deeper into the business. Based on the decided budget, you can get to choose the appropriate vehicles and purchase the raw materials accordingly. 
Online business establishment:
No matter how much fluency the business encounters, the offline business presence sends you only a limited number of customers. Even if the business is established in a crowded market, you can assume a particular number of customers only. However, online business availability will bring you several online orders from different areas and locations. You can appoint the manpower accordingly and furnish the available orders. Soon after processing the finalizing the product, you can get them delivered to their home addresses. 
Based on online business success, you can start promoting and developing your brand via social media channels. Moreover, create dedicated business fan pages, create the product, and upload them for maximum exposure. Finally, build up a dedicated customer base and globalize your business. 
Get your business registered online and offline via the available government system. Get a business ID, make and other needful documents to avoid unnecessary hassles in the future. Go ahead, proceed with the business, and market our brand for earning a decent sum of revenue. 
As I have already described in one of the essential articles of the stitching business that there are various sewing areas in this industry, which require different processes as well as stitching to complete the task. Here are some of the stitched products name from this industry, such as Seat Cover, Shade, Tent House, Aircraft Interior, Boat Interior.
Through this post, we have tried to understand that to make any of these products; you will need a heavy-duty stitching machine and equipment.
Before stepping up, understand the business plan so that you may go ahead without hesitation.

Retractable Awning, Car Parking Shades & Tent Ac units
The making all the above items you may have to figure out the location where and how exactly it can be fixed or on standby. Most metal fabrication work required a process which is PVC and Tarpaulin fabric attached by stitching or welding them.
Used Garments Machinery Business Requirements: <<<<Click here
How to Select the Machine Model<<<<Click here
Retractable Awning, Tent Ac Units & Shade Stitching Machine
                         Required Machines Description:
Single-Needle Long Arm Lockstitch Heavy Duty Machine.

Double-Needle Long Arm Lockstitch Heavy Duty Machine.

Single-Needle Cylinder-Bed Lockstitch Heavy Duty Machine.

Single-Needle Top & Bottom Feed Lockstitch Heavy Duty Machine

.
 Tent, Retractable Awnings & Shade Welding Machine
                          Required Machines Description:
Hot Air Welding Machine for PVC and Tarpaulin Fabric Material.

Hot Wedge Welding Machine with KEDER Attachment.
Aviation News, Automotive Industry & Shipping Industry where Stitching Matters
In all these industries, stitching is a part of manufacturing, and especially it is essential for their upholstery and interior.
Leather Seat Cover Machine



The seat cover is usually made up of rexine, leather and fabric material. In these, you can make a different styles of seat covers.
                          Required Machines Description:
Skiving Machine, Cutting Machine.

Single-Needle Top & Bottom Feed Lockstitch Heavy Duty Flatbed Machine.

Double-Needle Split Bar Unison Feed Lockstitch Heavy Duty Flatbed

Double-Needle Fixed Bar Unison Feed Lockstitch Heavy Duty Flatbed Machine with Center Guide Presser Foot.

Auto Hole Punching Machine for Leather.

Car Seat Belt Automatic Pattern Stitching Machine.
Heavy Duty Rope Strap Belt Stitching Machine
There are different methods of sewing on heavy-duty rope strap belts, and their materials are stitched in single, double and triple piles so that their durability remains strong.
                         Required Machines Description:
Single-Needle Unison Feed Lockstitch Heavy Duty Long Arm Flatbed Machine

Single-Needle Automatic Pattern Stitching Heavy Duty Machine.
Boat Trader, Types of Aircraft, Inside Interior Decoration



The stitching is also essential in boats and aircraft for their interior, in which upholstery, carpet and other fabric covers are included.
                        Required Machines Description:
Carpet Edging Machine.

Double-Needle Fixed Bar Unison Feed Lockstitch Post-Bed Decorative Machine.

Single-Needle Post-Bed Lockstitch Heavy Duty Machine.

Single-Needle Cylinder-Bed Lockstitch Heavy Duty Machine.

Automatic Pattern Designing Stitching Machine.
Conclusion: 
Starting a seat cover, parking shades, tent house, or floor carpets manufacturing business can be incredibly rewarding and profitable. With the right guidance and the willingness to put in hard work and dedication, you can become an expert in any of these industries while also creating a successful business. If you're looking for an opportunity that offers great potential for growth with minimal overhead costs, then this may be the perfect venture for you!
To sum up, seat cover manufacturing business, seat cover sewing business, parking shades manufacturing business, seat cover making business, tent House manufacturing business and floor carpets manufacturing business: follow the stitching business plan.