Dubai Business Startup Guide
Hey folks! It is not surprising to know that you are here to start a business journey in Dubai. It is a great idea that you have chosen the location UAE. Furthermore, you do have not to worry about how to start a business in Dubai because we will guide you step by step and let you know about some of the most trending and profitable business ideas whereby you may start making money from day one.
So read this article completely and you will be benefited.
How to Start a Business in Dubai? Ultimate Guide 
Reason to Start a Business in Dubai
Now today's UAE economy is booming even after going through the COVID economy recession wave. However, UAE was not affected horribly compared to other global countries. The reason is the UAE government policies and rules regulations which support direct and indirect the business environment.
Facilitating various opportunities and providing affordable resources including safety securities to investors, local people and foreigners that attract them to live there a quality life as well starting a business.
Top 11 Business Opportunities in Dubai
Let's go through the process to start a business in Dubai UAE
It is understood that first you will have to select the business topic, you might have one but if not so we let you know now.
Moreover, there are a huge number of businesses available in UAE which are trending currently and highly profitable. You may select any of them and start your business journey. Read this >> article for more details. 
Furthermore, there are few businesses which are like having every evening bread and butter on your table when you start and you will start experiencing them from day one.
Here name a few,
Restaurants

,

Small

Tea

and

Snacks

Shops,

Car Wash Services

 

Groceries

S

hops

.

Saloon,
Juice Center,
Bakery,

Fruits Shop,

  Starting these kinds of mid-level businesses does not require a huge number of manpower and setup. 
Legal permission will be needed according to these business criteria. Moreover, which might not cost you like other manufacturing businesses.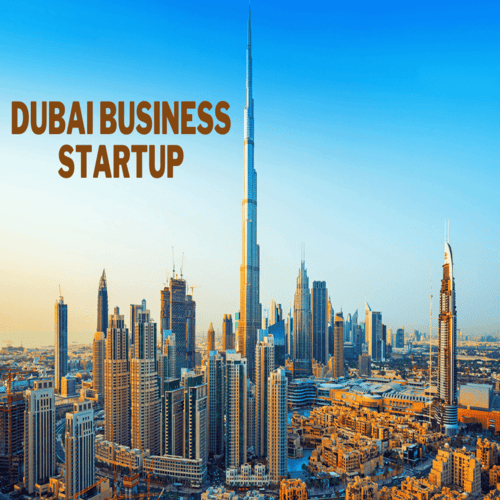 Selecting Business Location in Dubai UAE
Location is an important part of the business establishment journey and it will impact also your success. After business topic selection you have to decide which will be the best place to set up a company, factory or shop.  
Regarding mid-level businesses as mentioned early above, it is recommended to open those categories within the city to have startups in the right and profitable direction. 
For this selection, you may need to perform market research in-depth, including transportation, handling, marketing and providing customer services. Once the business is established you will not be able to move them to different locations easily.
If your business belongs to the manufacturing or bulk stuff seller level then you may need the area from where import and export is accessible. Mostly Free Zone areas are suitable for these kinds of businesses.
Further, even small offices can be opened for direct trading and warehouses to store the materials.  Opening a company or offices in FreeZone will have exclusive benefits in terms of getting a visa for employees and other purposes also including import and export.
Moreover general tax savings and other exemption advantages of having a business setup in a free zone area. 
Some of the well-known and become the first choice of investors FreeZone in UAE. Like, Jebel Ali FreeZone, Sharjah FreeZone, Ajman FreeZone and RAK FreeZone.  
Setting up the Offices for Business in Dubai
Regarding setting up the office only for offering services, online trading or marketing then note the below instructions. 
Searching for Office Space in Dubai? It starts with understanding your needs, desired locations, and budget. Research online directories to get an idea of what's out there.
Pick the ones that fit your criteria and visit them. Try to view at least 3 properties before making a decision.
Account for rent, utilities, maintenance fees, and taxes. Negotiate to get favourable terms.
Do research on areas like business districts or free zones to make informed decisions.
Is Dubai good for starting a business?
Further moving ahead we let you know the Pros & Cons of Starting a Business in Dubai.
Pros:
1. Strategic Location: Dubai's strategic location between the East and the West makes it an excellent hub for trade and commerce, linking markets in Asia, Africa, and Europe.
2. Investor-Friendly Environment: The government of Dubai has a proactive approach to business, providing several incentives to attract foreign investors. This includes tax-free zones, no restrictions on capital repatriation, and full foreign ownership in certain sectors.
3. Superb Infrastructure: Dubai boasts world-class infrastructure, including excellent roads, airports, seaports, and a modern telecommunications network. This makes it an attractive destination for businesses that rely on robust logistics and connectivity.
4. Diverse Economy: Dubai has a diversified economy that isn't solely dependent on oil. This economic resilience can be a strong foundation for businesses in various sectors.
5. Strong Legal Framework: The Emirate has a robust legal system, with legal frameworks in place to protect the rights and interests of businesses and investors.
Cons:
1. High Setup and Operational Costs: Starting a business in Dubai can be costly due to high rents for commercial spaces, expensive licensing fees, and operational costs.
2. Cultural Differences: Foreign entrepreneurs might face challenges due to cultural differences, language barriers, and business customs that are different from their home countries.
3. Legal Complexity: While Dubai does have a strong legal framework, it can be complex and difficult to navigate, especially for foreign businesses. Certain sectors still require local ownership.
4. Sponsorship Requirement: To start a business outside the free zones in Dubai, a local sponsor who owns 51% of the business is needed. This can be a significant barrier for foreign entrepreneurs who want full ownership.
5. Economic Instability: Although Dubai's economy is diversified, it has experienced significant fluctuations in the past, particularly in the real estate sector. Such instability might pose a risk for businesses.
Legal Requirements for Business Startups in Dubai
To navigate the legal requirements of starting a business in Dubai successfully, you need to know about the types of business licenses available and the specific steps to obtain them. In this part of the article, You will be directed through the method of getting a business license in Dubai. learn about the different sorts of licenses you may get.
Here is the Example of a Business License in Dubai UAE
To start a business in Dubai, you will need to get different types of trade licenses. These are the major ones:
| | |
| --- | --- |
| License Type | Description |
| Commercial License | For trading products. |
| Professional License | For providing services such as engineering, consultancy, and medical. |
| Industrial License | For companies involved in making and processing. |
| Tourism License | For entities that work with tourism like travel agencies and hotels. |
You need to get approval from departments like the economic department, the Ministry of Labour, or Dubai Municipality.
Also, foreign nationals can't get a sole proprietorship license in Dubai without a local service agent who is a UAE national.
Due to the huge demand and wide range of opportunities in Dubai, get ready yourself for the long process of getting a business license in Dubai. 
Choosing the Right Business Structure in Dubai
To choose the right business structure in Dubai for your startup, follow these guidelines. To understand the basics of setting up a business in Dubai, this section will provide you with the necessary information on choosing the right business structure with subclasses such as Sole Proprietorship, Limited Liability Company (LLC) and Partnership. Best decision for your business.
Sole Proprietorship
A Single Owner Biz, or an org owned by one person or entity, is called a Sole Proprietorship. This type of biz is easy to manage in Dubai 'cuz it needs minimal legal formalities.
No fixed capital is needed in Dubai to start a Sole Proprietorship. Plus, owners have all the decision-making power without consulting partners. The setup process is straightforward and cheap, making it popular with entrepreneurs.
Unlike partnership & LLC forms, Sole Proprietorship does not offer limited liability protection. So, if the firm has financial issues, the owners are personally liable for the losses.
Gulf News says 45,653 new licenses were issued in the first half of 2022 which has included various types of business registrations in Dubai.
Dubai Business Licenses Process
Apply for the trade licenses based on your business category and decide the business structure: Whether it is a sole Proprietorship or Limited Liability Company (LLC). This will determine the legal liabilities of the business owner. Then, research laws and regulations before registering with the Department of Economic Development (DED) and obtaining licenses.
Moreover, businesses need to open a corporate bank account in Dubai that complies with regulatory requirements. Also, financial statements must be audited by a DED-approved auditor yearly.
Pro Tip: If you are not sure or confused then you may Consult professionals like lawyers or management consultants to save time and resources. Make sure to get your legal step in a row before entering the Dubai business pond.
To navigate the legal requirements of starting a business in Dubai successfully, you need to know about the types of business licenses available and the specific steps to obtain them. Learn about the different sorts of licenses you may get.
Further, advise getting the limited liability with an LLC in Dubai! (Smart Business Move)
Limited Liability Company (LLC)
LLCs in Dubai are a popular business structure, offering flexibility and protection. Check out the requirements for setting one up! The minimum share capital must be required. A number of shareholders are also applicable. It depends upon both parties understanding that a particular percentage of the share must be owned by a local Emirati. But also, an LLC can be set up with one shareholder if the minimum share capital is paid.
Protective measures are a unique feature of LLCs. They limit shareholder liability to their investment amount only. This safeguards personal assets from business liabilities.
It's clear that picking the right business structure is critical for success in Dubai's booming economy. So, when forming a partnership, make sure you assess both pros and cons before agreeing!
Partnership
In Dubai, partnerships are one of the possible business structures. This involves two or more people or entities pooling their resources and skills to run a business. A limited partnership has general partners who manage and are fully liable for debts. Limited partners contribute capital, but have limited liability.
A general partnership means all partners share profits and losses, with unlimited personal liability. Before entering the partnership, it is important to create an agreement detailing roles, responsibilities, profit-sharing, decision-making, dispute resolution, and exit strategies. Expert legal advice is recommended.
An example of this gone wrong is a 3-friend restaurant. They became successful but disagreed on how to run the business. Without proper documentation, they dissolved the partnership and suffered financial losses. To avoid this, it's important to plan ahead and be prepared – just like taking a road trip.
Business Registration and Set-up Process
 Apply for your trade license, register your business with the Dubai Chamber of Commerce and Industry, and find office space in Dubai.
Applying for Your Trade License <<< Online 
To start a biz, you must obtain a permit for your industry. This is called "Acquiring Your Commercial License". Here's a six-step guide:
Identify the government office that issues commercial licenses in your jurisdiction.
Download or get the application form for the trade license.
Fill out all info on the form accurately and legibly.
Attach relevant docs with the application (ID, payment proof, etc.).
Submit your form and docs to the government office for review. It usually takes 3-5 days.
If approved, you'll get your license after paying the fees. Renewals must be done annually.
Note: Depending on your industry, you may need extra permits. This saves time and money. In recent years, trading without a permit has resulted in fines and legal action.  
Dubai Chamber of Commerce Registering Business
Registering your business with the Dubai Chamber of Commerce is essential when setting up in Dubai. Here's a 5-step guide:
Visit the DCCI website & create an account.
Choose 'New Membership' & fill out the application form.
Attach documents such as trade license, company profile, passport copies of shareholders etc.
Pay fees like annual subscription fees.
Submit your application & wait for approval.
Once registered, DCCI provides businesses with access to networking events, training sessions, research tools & legal consultations.  
Financing Your Business
To finance your business, you need to explore various options, such as sources of financing in Dubai and government grants and loans. Dubai offers ample opportunities for entrepreneurs to fund their businesses through multiple financing options. This section of the Dubai Business Startup Guide Step by Step with sources of financing and insights into government grants and loans can help you get started.
Sources of Financing in Dubai
Seeking funds for business in Dubai? Stress not, there are many Sources of Financing! Bank Loans, Venture Capital Firms, Government Funds, Crowdfunding, Angel Investors and Peer-to-Peer Lending (P2P).
Consider factors like the nature of the biz, personal credibility and creditworthiness when picking a source. Dubai's status as a top financial center is very attractive to global investors.
Government Grants and Loans
The Gov't offers various financial incentives for business growth and development. These can be grants or loans; for example, to purchase equipment, hire staff, or expand operations.
Key points:
Eligibility criteria change based on location, industry, size, and purpose of funds.
Grants are non-repayable and for specific projects/initiatives.
Loans are repayable – but you have to pay interest.
Different needs require different funding options at different stages of business development.
Be sure to research and understand the available options.
Note: Not all businesses may qualify for grants/loans. Policies on taxes or ethical practices must be followed. Consider the pros and cons before applying.
Hiring Employees in Dubai
To hire employees in Dubai for your business startup guide step by step, you need to understand labour laws in Dubai and be aware of the hiring process and procedure. This will help you navigate the process of hiring employees successfully. So, in this section, we will introduce you to the different labour laws in Dubai and the hiring process and procedure for your new business startup.
Understanding Labor Laws in Dubai
Dubai Labor Laws: An Overview
Employers in Dubai must follow labour laws when hiring staff. These rules cover areas such as recruiting, termination, hours worked, and pay. Ignoring them can lead to big fines and legal issues.
Companies must give workers contracts with details about pay, benefits, and days off. They also need to sponsor visas for foreign employees and provide housing or an allowance.
It's essential to understand the legal framework of labour laws before hiring in Dubai. Get legal advice if you're not sure of the specifics.
Don't risk breaking the law. Make sure you comply with Dubai labour laws before finding staff. Avoid hefty fines and legal problems by following these laws!
Hiring Process and Procedure
Dubai's hiring process has several crucial steps that employers must follow to guarantee recruitment is legal and smooth. They include:
Gaining the necessary permits for foreign employee hiring
Advertising job openings on accepted platforms
Interviewing and judging candidates equitably
Creating an employment contract that complies with UAE labour laws
Registering the new employee with applicable government bodies
It's essential to be vigilant during each step to dodge legal problems.
Plus, companies in Dubai must comply with the Emiratization initiative which promotes employing UAE nationals. Businesses need to aim for an Emirati employee quota, based on their size and industry.
Pro Tip: Understand the hiring procedure in Dubai before recruiting staff to stay away from costly penalties. If you want to start a business in Dubai, it's like playing Monopoly but with visas and trade permits instead of properties.
Business Plan Development
To develop a successful business plan, you need to follow a systematic approach. In order to build an effective business plan for your Dubai startup, focus on key elements such as financial projections, a mission statement, and a market analysis. Additionally, you should create a marketing plan that reflects the unique needs of your target audience. 
Creating a Marketing Plan
Creating a strategic promotional blueprint is key to a successful business plan. It's about identifying the target audience, positioning strategies, and pricing policies. Plus, content strategies must be included so your brand message is clear and effective.
When forming your marketing plan, think about competition, market trends, and customer behaviour. Identify gaps in the market and use them to your advantage. Goals must be in line with the company's mission and vision. Also, make plans for testing and monitoring your advertising strategies.
To promote your business, build relationships with potential customers via social media or email newsletters. Speak to their needs and interests instead of just selling. Show them your brand is trustworthy and valuable. With these tips, you'll be able to create a winning marketing plan to boost your business and reach its objectives.
Key Features of a Business Plan
A business plan is a mandate for any business person. It's the roadmap to success. Knowing the main components of a good business plan can lead to great results.
Executive Summary: Summarize the company, goals, and plans to achieve them.
Market Analysis: Specify your target market and competitors to customize plans.
Financial Projections: Show investors and lenders that the business will be profitable.
Tailor each section to your industry and company needs. Provide clear and precise information to help stakeholders understand the potential.
Research your industry and competition for the plan. Knowing the target audience helps develop marketing strategies.
Conclusion,
Dubai presents vast opportunities for entrepreneurs, with its strategic location, robust infrastructure, and business-friendly policies. A startup in Dubai can benefit immensely from its tax-free zones, diverse markets, and substantial government support. By utilizing this guide, entrepreneurs can navigate the complexities of business setup, understand the cultural intricacies, and make informed decisions to succeed in the dynamic Dubai business landscape. However, like any business venture, success will depend on market research, product quality, and service excellence. With its cosmopolitan lifestyle and expanding economy, Dubai is poised to be a hotbed for startups and a gateway for businesses aiming for global exposure.